Our school is operated by Pontefract Academies Trust (PAT).
The PAT was created under the provisions of the Academies Act 2010, as amended by the Education Act 2011. Its structure of governance is constituted under the Articles of Association. The Trust is an exempt charity by virtue of the Charities Act 2011.
The Funding Agreement between the Department for Education (DfE) and the Trust sets out the terms and conditions on which grant is made. The Trust Board is responsible for ensuring that the conditions of grant are met. As part of this process the Trust is required to have in place appropriate arrangements for sound governance, financial management, securing value for money and accounting, and for using public funds for the purposes for which they were intended by Parliament.
This Trust Board is accountable in law for all decisions about its schools. This does not mean the Trust Board is required to make all the decisions itself. Some decisions can be, and are delegated, including to SPRB, delegated officers, and other Trust Board established committees. The Governance Policy and Scheme of Delegation sets out the framework which the Trust Board has approved and is summarised below: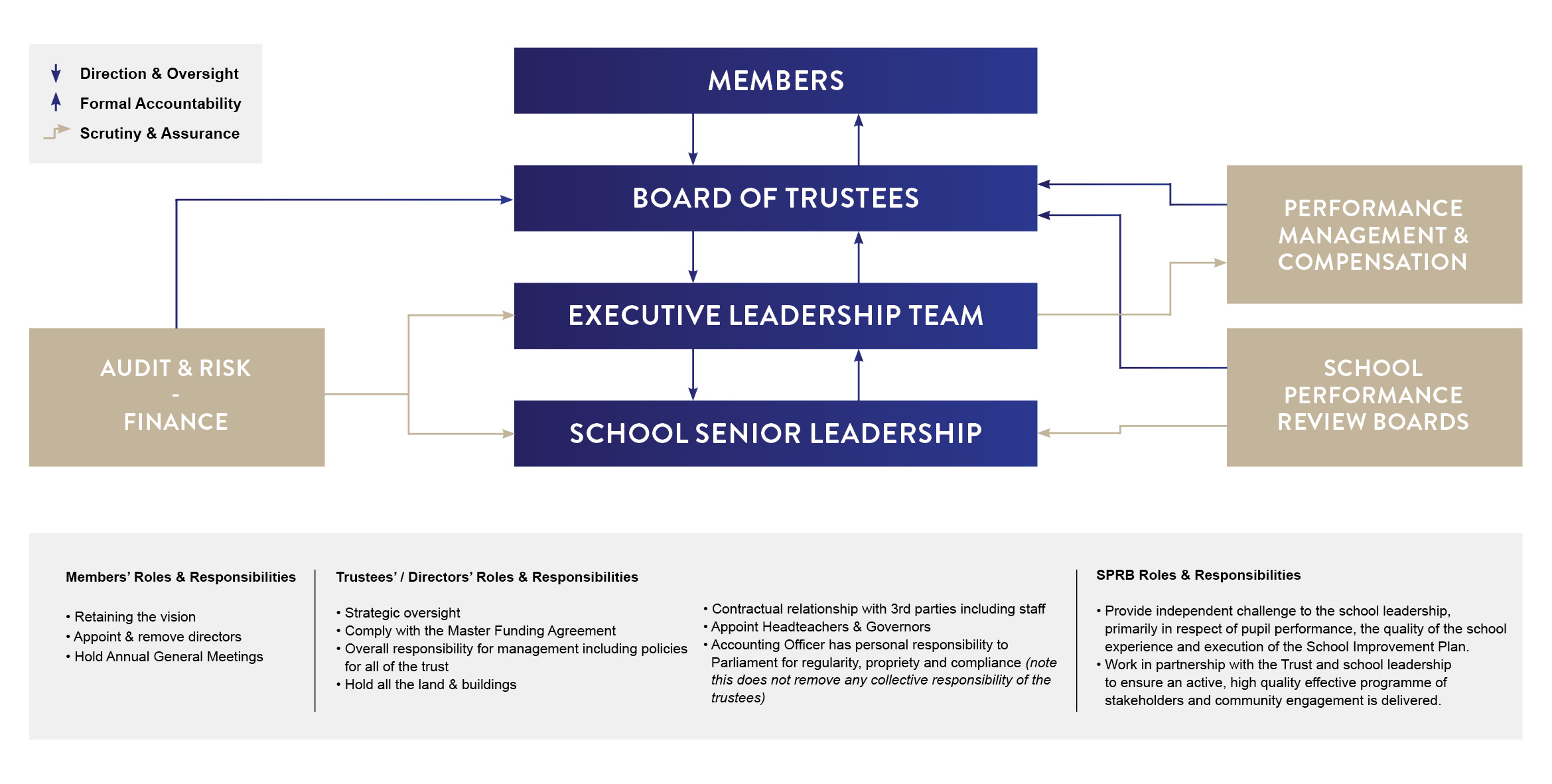 The Rookeries School Performance Review Board (SPRB)
The Rookeries SPRB is a sub-committee of the Trust Board and has various responsibilities delegated to it through the Pontefract Academies Trust Governance Policy and Scheme of Delegation.
The SPRB of The Rookeries J, I & N School is currently made up of:
| Name | Category/Role | Appointed By | Appointment Date | Term end date / Date stepped down |
| --- | --- | --- | --- | --- |
| M Neden | Chair | Trust Board | 31/10/2016 | 31/08/2022 |
| N Ellwand | Head of School | Ex-officio | 01/09/2016 | Not Applicable |
| M Farrell | SPRB Member | Trust Board | 14/08/2012 | 31/08/2022 |
| A Johnson | SPRB Member | Trust Board | 19/01/2016 | 18/01/2020 |
| A Sharp | SPRB Member | Trust Board | 31/10/2016 | 30/10/2020 |
The Chair of the SPRB may be contacted at:
Care of The Rookeries
The Rookeries Carleton Junior, Infant & Nursery School
Carleton Road
Pontefract
West Yorkshire
WF8 3NP
I'm currently Vice Chair and Head of Finance for the SPRB. It's a position I thoroughly enjoy, although at times it's quite challenging, and although I no longer have children at the school I still feel I have a lot to contribute to ensure all of the students attain their full potential. In my work life, I've been employed by Lloyds Bank for the past 18 years in various positions, including Customer Relations, Complaints Manager and currently as a Mortgage Case Reviewer responding to the Financial Ombudsman Service. Lloyds have recently begun an initiative to support governing bodies across the UK, offering training courses and information to encourage staff to give their time, and the benefit of their knowledge, to their local school. This has been a great help to me personally, providing insight and guidance on processes and procedures related to school governance.  
Mike Farrell (SPRB Member)
I have a background in construction, and when I retired I was employed as a project manager. During my working life I worked on a number of educational buildings and leisure facilities. One of my contracts involved spending 18 months in Dubai. I started volunteering at The Rookeries many years ago in the Reception class where I helped children with their reading. At this point, I was invited to join the SPRB. I was the Chair when The Rookeries was rated as 'Good' by Ofsted in March 2015. I've been instrumental in appointing a strong SPRB and interviewing and appointing a great number of staff, including the current Head of School. I have attended numerous courses on behalf of the school and the Trust. I take my role very seriously and am totally committed to raising the standard of education for all pupils and keeping them safe at all times. I take part in lots of school activities including activity days in school, trips and generally volunteering in classes.
Alan Johnson (SPRB Member)
I attended Castleford Grammar School and then Leeds Polytechnic and Salford College of Technology to qualify as a Chartered Surveyor. I worked in construction/project management for all my career until I retired in February 2017. I spent the last 23 years in higher education, working in the Estates Departments of both Huddersfield and Leeds Universities, where I was responsible for managing many large construction projects. I'm an avid rugby league fan and a staunch supporter of Castleford Tigers. I joined the Rookeries SPRB n September 2015, and am responsible for Health and Safety.
Alexis Sharp (SPRB Member)
I'm a Member of the SPRB, supporting SEND. I have three children, and my youngest daughter attends the school. I had 10 years of experience as a Governor prior to the Rookeries. I was at two schools and my responsibilities were within finance, HR and SEND support. During this time we amalgamated the infant and junior schools into one new school. It was a very exciting project. I work full-time as a financial accountant with the manufacturing industry. I have also worked in manufacturing retail construction and the public services for the last 28 years. I am FMAAT qualified and part ACCA qualified. I have more than 10 years' personal experience living with a child with disabilities. I'm parent trustee for the Wakefield & District Down Syndrome Group, where I organised and successfully won £50,000 for The Peoples Project in 2016 for the charity. I currently manage three qualified therapists and run speech and language therapy sessions for 25 children with Down's syndrome once a month. I'm a Director of T21 Educational Care & Support Ltd, a Director of T21 Case Management Ltd, and Managing & Financial Director of T21 Accounting and Business Consultancy Ltd.
Nicola Ellwand (Head of School)
SPRB Current Register of Business Interests
Role
Name of business or organisation/educational organisation
Nature of business or organisation
Nature of interest
Date of appointment of acquisition
Date of cessation of interest
M Neden
Chair of SPRB
Lloyds Bank
Bank
Bank Worker
07/02/2000
N/A
M Farrell
SPRB Member
None declared
N Ellwand
Head of School
None declared
A Johnson
SPRB Member
The Rookeries J, I & N School
Education Provider
Grandchild in School
September 2018
The Rookeries J, I & N School
Education Provider
Daughter employee in school
November 2013
A Sharp
SPRB Member
None declared
SPRB Membership & Attendance Summary 2017/18
From
To
Appointed By
Meetings attended
Out of a possible
M Neden (Chair)
31/10/16
31/08/22
Trust Board
5
6
M Farrell
14/08/12
31/08/22
Trust Board
6
6
N Ellwand
01/09/16
N/A
Ex-officio
6
6
A Johnson
19/01/16
18/01/20
Trust Board
6
6
A Sharp
31/10/16
30/10/20
Trust Board
4
6
Left within the last 12 months:
A Knee
31/10/16
18/03/19
Parent Elected
4
6
G Lindley
01/09/16
31/08/18
Ex-officio
6
6